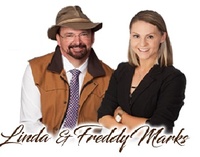 Linda and Freddy Marks are a strong Father-Daughter Team. The Marks family has been encompassed in the Real Estate Industry for three generations, beginning in 1946 in the German-Dutch part of Europe.
The members of the family team have a vast knowledge of British Columbia from years of experience dealing in marketing lifestyle properties in BC, Ranches, Farms, Lodges, Resorts, Waterfronts, Cabins, Landholdings, Motels, and other remote properties.
Linda and Freddy have gained an outstanding reputation with Buyers and Sellers from Europe, the US, and here in Canada. Their local network of government officials, public entities, and associations works in favor of their clientele.
Each office member has specific attributes such as: professionalism, knowledge, trust and decades of experience. These qualities will ensure your interaction with the Family Team, will be a solid cornerstone of a lifelong relationship.
Welcome to visit Agassiz Office's website for more detailed information.